All About Kids
Georgia's book is just the cutest to teach your kids about the Philippines!
With its simple drawings and child-friendly artwork, 'Rosa goes to' by Georgia Schulze-Del Rosario inspires love for the Philippines in kids in the cutest way possible.
Whenever we teach our kids about the Philippines, we always end up using those drab, black and white textbooks that we usually buy along with the other school-required books. But Georgia Schulze-Del Rosario is here to change that. Drawing from her inspiration of her being a proud Pinay, she created the cutest way possible to show kids what's to love about the Philippines: the Rosa Goes To series.
The inspiration behind the "Rosa Goes To" Series
What makes this book so adorable are the inspirations behind the little girl in the story. According to Georgia, Rosa came from two sources. The first source being her four daughters, Nadia, Sonia, Katia, and Irina. She also wanted to make Rosa more relatable to kids, deriving Rosa's name from her last name, "Del Rosario".
"[Rosa] has a little bit of each of my girls—whether it's the eyes or the hair," the mother of four explains.
But what got us was the second source and reason why she settled on the name Rosa. Growing up, Georgia had a yaya named Rosa who helped her mom raise her.
"I just loved my Yaya Rosa," says Georgia. "When she left to have a family of her own, it was hard on both me and her. That, when she had her first baby, she named her Georgia. So this book, Rosa Goes To series is my little tribute to her."
While writing her books and adding her friend's — Reena's — drawings showing the different structures and vibrant festivals of the different provinces, Georgia hopes her books would always serve as a reminder to her girls that there is pride to be found in knowing where you're from.
Bacolod and Vigan – gotta see them all!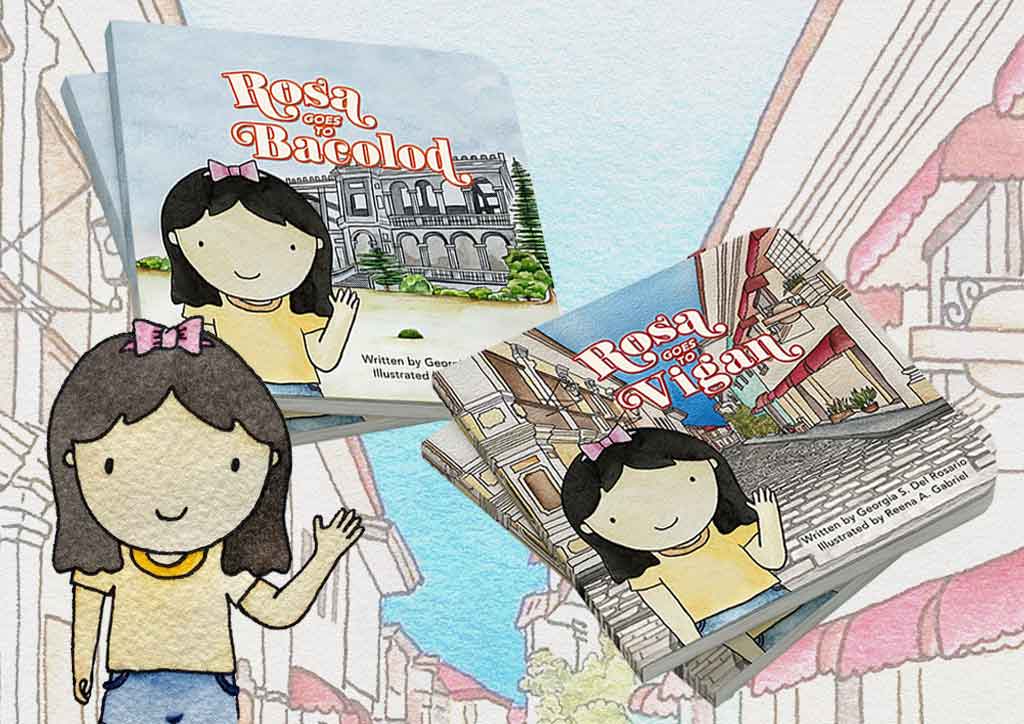 The Rosa Goes To Series currently has two books: Rosa Goes To Bacolod and Rosa Goes To Vigan. But the series doesn't just stop there! Georgia plans to cover each part of the Philippines wherein each book will describe what makes each place unique. Whether it's eating longganisa from Vigan or attending the fiestas exclusive only to that province, Georgia wants Filipino kids to learn more about their country.
"While we can't just go around during the pandemic, we could definitely try reading up on the culture, learning the language, and even trying the food they have," says Georgia.
Pinoy Pride in the cutest way possible
There's so much more to the Philippines than what we see on social media. We have a lot of festivals with bright colors that bring in good cheer and we also have a lot of food that tells us the story of each province we go to. Although we can't bring our kids just anywhere for now, we now have the Rosa Goes To series to order on Instagram by Georgia Schulze-Del Rosario to make learning about the Philippines are more fun experience.
Need more books or fun activities for kids? Check out our articles here:
6 Books to Jumpstart Your Child's Love for Reading
Here's Where You Can Buy Children's Books Online
Change Your Child's Life, One Book at a Time: Why Reading Is So Important