Babies & Kids
10 Most Fashionable Kids and Babies on IG
Follow these fashionable celebrity kids and babies on IG for some tips.
We've followed all sorts of stylish moms and even soon-to-be moms. But if their moms are fashionistas, there's a good chance that their kids are quite well-dressed, too. Some of these celebrity kids might even be more fashionable than we are! If you're looking for some fashion pegs or picture ideas for your kids and babies, here are a few fashionable celebrity babies you can follow on IG.
Her Royal Highness, Princess Charlotte of Cambridge, always has to look her best especially when she attends events with her parents, Prince William and Duchess Kate. On her IG, she has a variety of outfits that are timeless in kids' fashion.
If her mom's already the queen of primetime, it's no surprise that Zia is racking up hearts just as well as her mom. She's got quite the fashion sense herself, often sporting some cute dresses.
The smiley celebrity baby of Sam Pinto and Anthony Semerad always has a bright smile and fashion sense that reflects the tropical theme. From pink onesies to neutral-colored dresses, Mia can win hearts.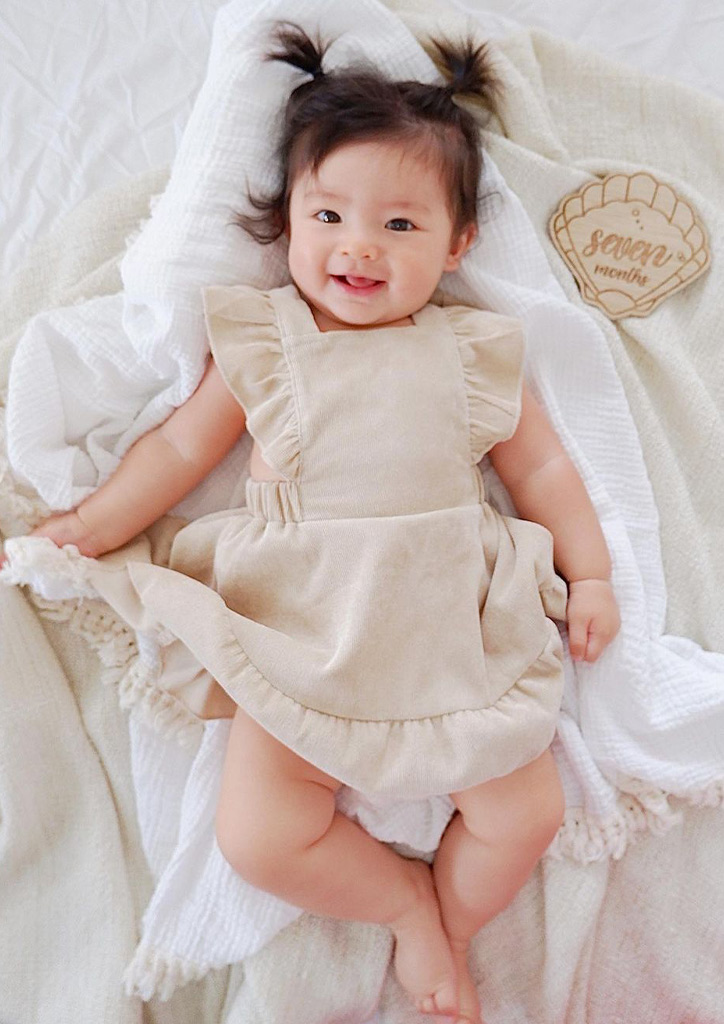 Andi Eigenmann's preference for gender-neutral colors keeps Koa cozy and cool under the tropical sun. From simple whites to sandy-colored co-ords, this celebrity baby boy proves that neutral and light colors work for baby boys, too.
5. Thylane Bolzico (currently posted by mom: @solenn)
A fashionista herself just like her celebrity mom, Solenn, Tili Bolzico covers the whole spectrum of kids' fashion—from minimalist to printed. Sometimes, she can be caught twinning with her cousin, Dahlia.
6. Dahlia Amelie
Dahlia Amelie loves flowers and makes no effort to hide them. Her 2nd birthday has her in a pretty paisley floral dress that makes us swoon with cuteness.
Daughter of soccer superstar David Beckham and Posh Spice, we're sure that Harper Beckham knows what it's like to be dressed to the nines. Although she doesn't have her own IG, we're sure that she's got a lot of fashion tips for kids even without it.
Whether it's just shopping or going through the garden, Martina is always adorable in her little sundress or her co-ords. She even looks endearing in classic kids' fashion: a jumper!
9. Siena Belo Pitt (posted by mom: @cristallebelo)
Little Siena looks as lovely as the tiny cherries she's harvesting in her bucket. Besides that, this celebrity baby also has some adorable outfits to match the seasons of kids' fashion in Australia.
10. Amari Crawford (posted by mom: @coleen)
Amari Crawford's natural charm makes it no surprise why he knows how to rock his clothes from Moose Gear for Kids. Considering how he's usually out to explore, Amari always needs his fashion to be practical and cute at the same time.
Some of these kids on IG know how to dress better than us!
When moms are fashionistas, it's no surprise that gene gets passed down to their kids or their babies. Some babies are just so photogenic that it's hard to make heads or tails of it. Others are just too cute to be true and you just want to squish their chubby cheeks! If you're wondering what it's in for kids' fashion, best to follow these kids' IG or their moms. There's bound to be something there!
More about kids' and babies' fashion? Here's more!
All Grown Up: Scarlet Snow Belo Turns 7
Titus Samonte Chua Enjoys His 3rd Birthday With Peppa Pig
LOOK: Zeinab Harake Throws Her Daughter, Bia, A Disney-Themed 1st Birthday Party!