Special Features
Breastfeeding Friendly But Make It Chic: Check out Elin PH's latest collab with Tricia Gosingtian
Elin PH's latest collab with Tricia Gosingtian lets mamas stay stylish while and after breastfeeding
When you think of breastfeeding friendly clothes, fashion statement is usually the last thing that comes to mind. Form flattering and chic? More like practical and dowdy. And this is where Elin PHxTricia comes in: they understand that nursing doesn't have to hinder your sense of style. The best part? The clothes are so cute, you can wear them even when you're done breastfeeding!
Here's why we're such big fans of this super stylish breastfeeding friendly line:
Meet the stylish ladies behind ElinxTricia: Tricia Gosingtian and Joey Socco Dy!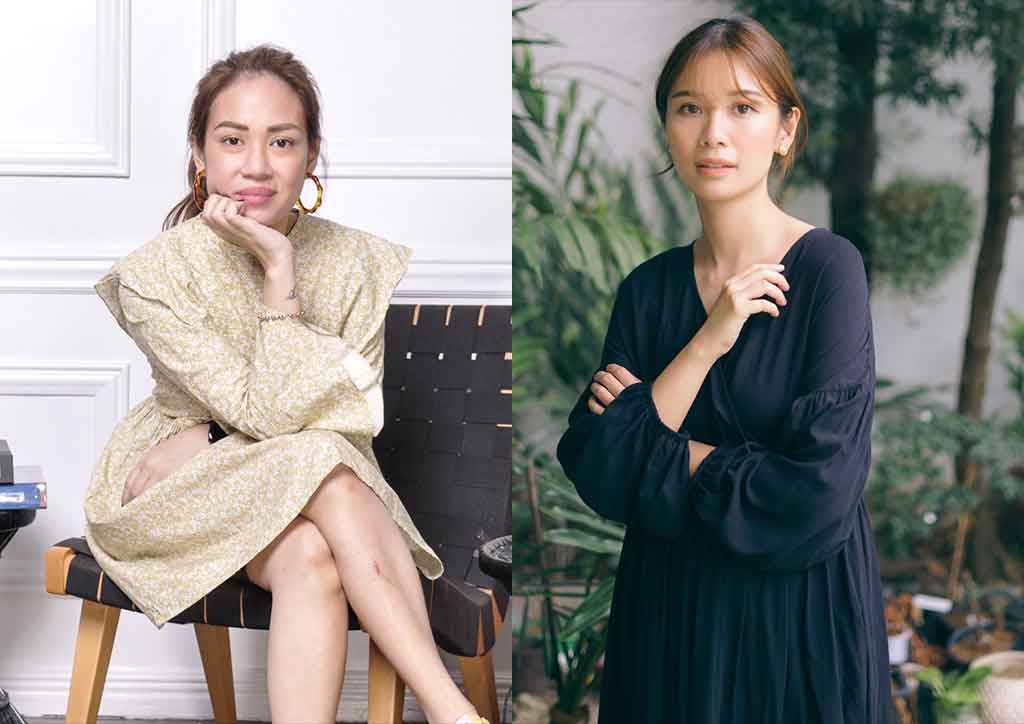 Joey Socco Dy, a mama to two amazing girls, created Elin PH to cater to new moms and postpartum moms. For 7 years, Elin PH has been creating designs that help moms nurse without giving way to fashion. Elin PH's main goal? To normalize breastfeeding and to make it easier for mamas to nurse.
"For this collaboration, ElinxTricia , we wanted the moms to feel good about themselves, to feel happy and excited while nursing and to be able to wear lovely dresses for special milestones, simple dinner outs or simply just at home in style and comfort," shares Joey.
Tricia agrees: "We realize there's still space for nursing-friendly, easy-to-wear, non-loungewear pieces. For our collaboration, we worked on designs that are different from Elin's regular line, with fabric that I was most familiar with (as the creative director of my own brand Hinhin @hinhinworld) – 100% cotton. 100% breathable for baby and toddler hugs and snuggles!"
The inspiration behind the collab
Back then, Elin PH focused on using "simple plains and stripes". But Ms. Joey realized that over the years, they had to reinvent themselves. That led to her contacting Tricia Gosingtian who she had been a fan of for quite some time.
"I love the way she dresses- so dreamy and fresh, her aesthetics and feminine romantic looks. I reached out to her last year for a collaboration and to my amazement she said yes," Joey recalls.
Soldiering through the pandemic
"I gave Tricia full artistic and creative decisions with the styles and fabric choices. It was pretty hard to collaborate during pandemic and since Tricia has a newborn it was hard to meet for safety protocols," said Joey in her interview. "We actually only met once throughout the collaboration!"
The road to the debut of the ElinxTricia line was not an easy one. With the unpredictable pandemic, emails were the best form of communication. They tossed designs back and forth for revisions which Joey and Tricia both described as "taxing yet fun".
But for the sake of helping moms feel like themselves again then, it was a line worth finishing.
Why new moms will love ElinxTricia
"We want moms to feel like themselves again during pregnancy and post-partum, that maternity and nursing clothes don't have to be boring. We challenged ourselves to produce regular dresses with these hidden nursing accessories with Tricia's style in mind," Joey explains.
For Tricia, it was all about creating fashionable "keepsakes" that you could wear even past the breastfeeding stage. In fact, the line is so practical and chic that one doesn't even have to be pregnant/breastfeeding to appreciate it!
Staying stylish, whether you're breastfeeding, pregnant or post-partum is a right every mom has. And thanks to ElinxTricia, it's finally possible.
Like our article for new mama fashion wear? Don't worry, mama! You're not alone in your story!

Motherhood is Solenn Heussaff-Bolzico's Silver Lining
Ruffa Gutierrez's Motherly Love: Passing Womanly Strength and Courage to The Next Generation
Fashion Forward Maternity Looks You'll Want To Wear Even If You Aren't Pregnant