Spotlight
At Home with Her Happy Islanders: Andi Eigenmann on the Joys of Parenting
A few years since her life-changing move to Siargao, Andi relates how the island paradise has significantly changed her and nourished her growing family
It would be a lie to have stepped on the sandy shores of the teardrop-shaped island and not fallen in love with its laidback lifestyle. Filipinos and tourists alike have showered multitudes of praises for the otherworldly experience that Siargao boasts.
And it is not just about the picturesque sunsets or the thrills of its festive nightlife. There is something about the immersive atmosphere: blending the exquisite marvels of nature and the lively local community that protects its one-of-a-kind experience. For Andi Eigenmann, it is a fulfilled childhood dream, a perfect backdrop for the home she and her fiancé Philmar Alipayo have built.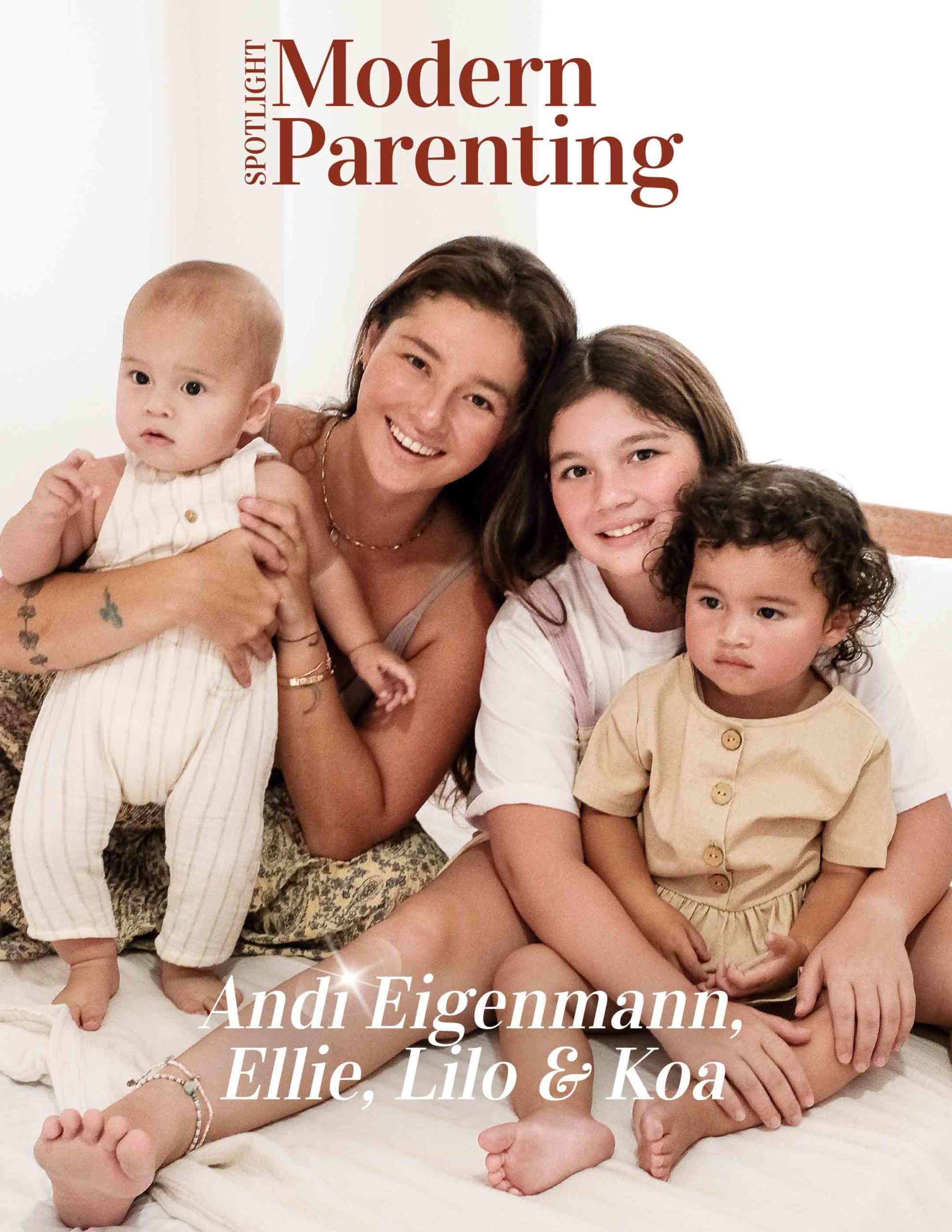 On the move
Having raised daughter Ellie in the city for six years before the big move, Andi admits that their new life on the island is more comfortable and less stressful. The slower pace is much appreciated. And perhaps this relaxed setting has been ideal for her growth as a parent in raising her three beautiful children: 9-year-old Ellie, 2-year-old Lilo, and 9-month-old Koa. But the decision took more than a good night's sleep. Many essential considerations had to be factored in, and Andi knew of the compromises she and Ellie would have to make.
Andi elaborates, "Even if this is a dream that I've always had ever since I was little and even as I was already slowly making the move, it wasn't as easy as I thought it would be. Because even if Siargao is just a two-hour flight away from Manila, it is still a different world for me. It took me a while to adjust. Mainly on the part where I would have to leave my family or I would not be able to see my family as often as I wanted to. And it means a lot to me, as well, to raise my kids close to my relatives, the people that I love the most."
"That was a bit hard for me at the beginning," she continues. "But because of the pandemic, because of what has been happening in the world right now, I feel that this is the better decision to make for myself and my family. So that would just have to be my sacrifice. But it does not mean that I would not need them or love them any less. Now, seeing them even just occasionally is more meaningful."
A Day in their Island Life
What they say about the pleasures of living in Siargao is all true. Seconds-away proximity to the ocean's blue waters, gorgeous sunsets that rival the most expensive stays abroad, and the incomparable sea breeze that greets each morning. And Philmar, Andi, and the three kids take full advantage of their exquisite environs. "We are all early risers. Even Ellie, who hates to admit it," Andi shares, laughing. "I don't know why, because she wakes up at 6:30am without anybody forcing her. But you know, we all enjoy mornings being outdoors, where the sun is very healthy for us, especially for our kids. We all go to the beach or just be outside with nature."
"In the beginning, me and Philmar were much stricter about certain rules in order to keep our family or our household healthy. We are all about health. Like, we don't allow them to do screen time or play with gadgets. We don't allow them to sleep late. With Ellie, screen time ends at 9pm, and the lights are supposed to be out. But now I feel like having adjusted here on the island, I'm less strict about those things because I realize that life is all about balance. And as long as you don't overdo anything, you're all good. I have happy kids. So, no complaints: they can watch TV if they want," she says with a chuckle.
Mealtimes are also thoughtfully made for the benefit of the family's well-being. Andi ensures that healthy dishes are served on the table, taking her time to prepare and consider the family's tastes. Surfing, on the other hand, is also a part of their daily routine. And with a multi-awarded surfer like Philmar in their quintet, it wouldn't come as a surprise that the sport is a shared passion in the family. "Even Lilo enjoys surfing," Andi reveals. "Koa is now going to be nine months old on the 17th, and so it's been much easier also to have him just hang out on the sand or wade about in the shores."
Across Their Blue Horizon
December last year brought great news from Philmar and Andi. The couple's engagement invited hundreds of congratulatory messages from both fans and family members. A summer 2022 ceremony would have been in the works. The lovely couple, however, decided to wait it out till the country's COVID situation improves. "We realize that we don't want to rush it or force it, having to plan or schedule," she explains. "We are both not party planners. so we just want a simple wedding. So we realized, why not save our money first. So we have not talked about anything about our wedding other than the year."
It's not like the bride-to-be dreads the stressful planning, as in most wedding prep stories we have seen and heard of. But Andi shares that it is more of that: she really just does not know how to go about it. Friends tell her, though, that preparing an island wedding wouldn't be as stressful, as Siargao isn't known as a wedding destination, even with its world acclaim.
"And what I want—like, for example, for the wedding gown— I don't want anything too extravagant. I'm probably not even going to wear a gown. So I know also that I don't need ten months to prepare for that. So somehow, it's easier. I tell myself, you don't have to worry about it so much because it's all going to be so casual. It's going to be so chill."
So far, Andi and Philmar are preoccupied with gradually finishing their homestay. Challenges lay ahead due to COVID restrictions, so for now, the two are focused on making the place as livable and family-friendly as what befits their brood of happy islanders. Andi tells us, "For now, we are building a tree-house for the kids and making our garden nice. That's our project."
Island Mom Joys
"It's super humbling to be living in such a different environment, so far from the 'glamorous' lifestyle," Andi muses. "I feel like living here has made me meet a certain balance and realize that I don't have to go to the extreme to be able to achieve the life that I want. I can just take it easy and do everything in moderation. And I feel like that's because of the lifestyle here—the super-chill laidback lifestyle that people live here. Hakuna matata."
The three children share her sentiments, enjoying each other's company amid the picturesque beach scenery. Ellie takes pride in being a big sister to Lilo and Koa, something Andi adores about her. "Before when it was just me, her, and Philmar, she would always say that she wants a baby sister—and then she got a baby sister. She was so excited. She was the first person we told, obviously."
"And then the second time around, I told her at the same time as my mom and my youngest brother. And she was also already saying that she thinks she wants to have a brother—and she did get a brother! Now every time she wants a sibling I get scared," Andi says, breaking into laughter. "She has a lot of younger cousins on her dad's side. And so, I feel like that's what makes her such a natural at being a big sister. She's so awesome. She's super maalaga."
What works best
"I'm not an expert," Andi says when we ask for relationship advice. "I don't feel like I'm the best person to ask relationship tips to, but I do belong in a happy one. And I would say our relationship works so well despite us being from very different worlds and coming from very different backgrounds. I realized that you can have so many differences." Communication is the key, as Andi stresses. Being considerate and unselfish are equally important too.
Andi celebrates the fact that she and Philmar share the same goals, dreams, and ambitions. They have the same why's and the same priorities. "Both of us love our kids so much, and we love being parents to them. So even if there would be differences or struggles, we would always just end up seeing eye to eye," she concludes. The joys of motherhood have significantly been helpful for Andi's growth as a person.
Her willingness to learn from her experiences and the determination fueled by her incredible love for her family is an inspiring story for those who dream of making things work. And as we wait in eager anticipation for her and Philmar to tie the knot, we happily follow their story as they fulfill more dreams for themselves and their children.
Words PIPO GONZALES
Photography CECILE LAMBERT
Hairstyling TISH MAHTANI for ULO SALON, SIARGAO
Love this story about Andi Eigenmann? You'll love this: