Spotlight
Drew Arellano and Iya Villania-Arellano: Setting the Best Example of Love
Weekly lunch dates and a podcast that allows them to communicate better—Drew Arellano and Iya Villania-Arellano hope to set the best example of love for their children to imbibe.
What you see is what you get—that's exactly how it is with Drew Arellano and Iya Villania-Arellano. Despite being in the showbiz industry for almost as long as they've been together, you don't feel an inch of pride or pretense in the way they carry themselves. This was evident during our morning shoot where Iya arrived at Ascott Bonifacio Global City an hour before her call time. Fresh from an invigorating shower, she walked around the three-bedroom suite barefoot with a bounce that tells you she was more than ready to take on a full day.
While waiting for hair and makeup to set up, she sat comfortably on the king-sized bed, crossed her legs, and started recalling the years she and Drew were dating before eventually tying the knot in 2014. This was after being told that their Spotlight story would be revealed on Valentine's Day itself. "I think Drew and I are very lucky to be in this industry, but not too hot in the eyes of people," she explains.
Their relationship practically evolved right before the public's eye. But she feels fortunate that they still get to keep some things for themselves. "I think that's how it made it easier for us to have this kind of relationship. Even if we are public or TV personalities."
Perhaps it was also the absence of social media at that time. "It wasn't really hard," Drew, who arrived a little later with the four kids, adds with a shrug. "Not like now with social media. If you see a celebrity couple and they have a conflict, the public would sometimes have their own say. It's a different generation."
Raw moments captured
Drew and Iya's social media platforms are a reflection of how raw, real, and relatable they truly are—as seen in the many hilarious videos they post of themselves and their children. "What you guys get on social media is not even half the stuff that happens at home. So whatever we manage to share, that's really all it is. Because there's so much more," Iya says with a laugh. "There's so much that we don't get to share and there's so much that I wish I could still share. Because there are just so many funny and raw and happy moments that we experience at home. And a lot of them, I only get to catch with my eyes and I don't get to record."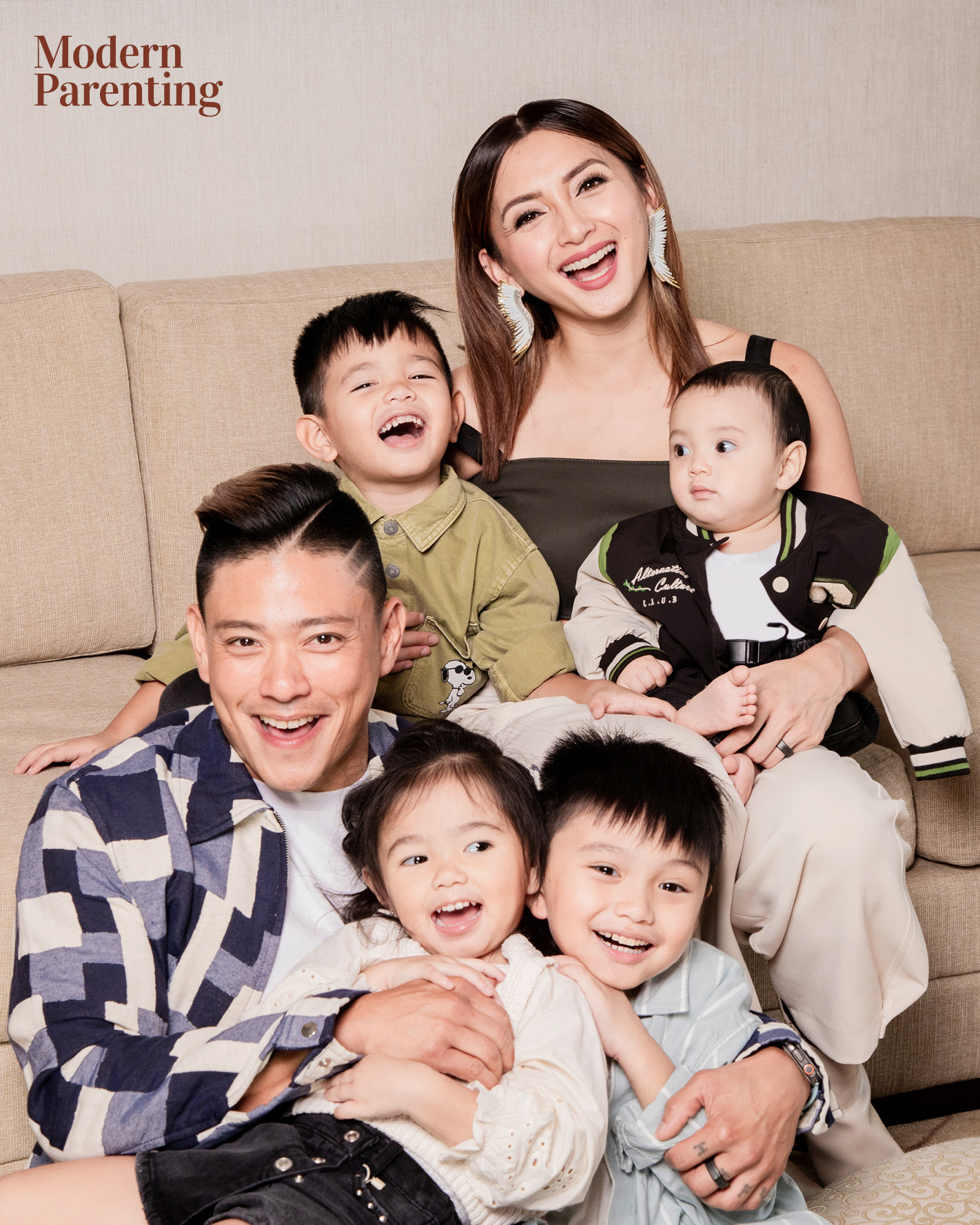 Drew, on the other hand, likes to use his Instagram as an album where he can document as many memories of the kids, especially since they grow up so fast. "I started posting diligently when Primo was born," he says. "It's like a journal for me. I love to capture the funny ones and I tag them so that when they grow up, they'll see."
"We're not trying to portray something different. What you see on TV and what you see on stage or social media is pretty much who I am with my family, my best friends, and whoever," Drew says. "And it's funny because we're not trying to be relatable."
This authenticity applies to everything that they do—including their podcast, which Drew describes as a passion project.
Communication is key
As a fan of podcasts, Drew likes to listen to specific Western ones where sometimes, one line already affects how he thinks. This inspired him to start his own—hoping to be an instrument to inspire others as well. "I want to do this as a passion project. I don't want this to be a hassle or to feel pressure. And I told my wife, 'One hour of your time once a week. We talk about this or that, and whoever wants to listen can listen.'"
Starting the podcast turned out to be a great move for the couple because it solidified how they communicate with one another. "I feel that through the podcast, the depth and level of our communication just got better. Communication is definitely a huge part of the success of our marriage because so far, it's doing really well. Of course, we still have conflicts and disagreements. But when we talk about these, we try to come up with a solution. It's probably not the best solution but we try to compromise."
Despite spending on crew and equipment, which Drew labels with the hashtag #sustainablebleedingforacause, the podcast serves as a form of therapy for him and Iya where they discuss topics they don't normally talk about during their dates. "It's a win already. For me, it's a return on investment."
Life with the Arellanos
The laughter around Ascott's suite as the three older kids, Primo, Leon, and Alana, played a Bring Me game with their dad is proof of how healthy and happy their relationship is with one another. Primo is the typical sweet, loving, and caring Kuya. "If he knows that his brother or sister is in the right, that's who he'll protect," shares Iya. "So if Duday (the family's nickname for Alana) grabs something from Leon, or the other way around, he'll stand up for the one who's in the right."
Primo also likes to do things by the book, which is where Leon comes in to shake things up. "Leon is full of character and energy. He's so much fun. Primo will do things the way they're supposed to be done. But his brother Leon will be the one to come up with crazy, out-of-the-box ideas."
"Primo is six years old and it's such a great age. He's now being a Kuya," Drew adds. "You can talk to him already and explain stuff. And he gets it. Leon, he's a firecracker. He's a wild one. And it's funny because my mom goes, 'He's you,'" he chuckles.
Meanwhile, their only girl, Alana, has a demeanor similar to Leon's, which explains why they're often tagged as partners in crime. She enjoys rough play with her brothers and is quite articulate for a two-year-old. "Alana and Leon understand each other more than Alana and Primo," Iya describes. "So yun yung sobrang enjoy panoorin. When you see Leon and Alana—the way they love each other and the way they care about each other. And also the way they torment each other. Sobrang nakakatuwa."
"Of course, everyone's favorite is Astro," Drew points out. The family refers to the youngest Arellano sibling as Duduy. "He's such a doll with very expressive eyes. Everyone is drawn to Astro to a fault. Kulang na lang he gets ripped into pieces because of the gigil."
For some parents, the transition from having one child to two can be a little daunting. Iya admits that it was emotionally hard because of how much she loved Primo. "I couldn't come to think of how I could love another child the same way. That was my guilty feeling when I had Leon. As in umiiyak ako sa hospital before going home, because I didn't know if I was ready to bring this child home because I missed and loved Primo so much," she recalls. "But your heart really just grows."
"I think mentally and emotionally, it is harder when you have a second child. But physically, strategically, and logistically—it's harder to adjust from two to three. Because outnumbered na yung magulang. But after Leon, parang okay na. You really just become more relaxed when you have more kids."
A healthy marriage is the best gift for their children
Raising four children definitely keeps Drew and Iya on their toes. And in between workouts, busy careers, and launching their podcast, Life with the Arellanos, it's almost impossible to imagine how they carve the time out to be with themselves.
"When you have kids, it's inevitable that your priority is going to be your children and your relationship takes a backseat. But I really believe that a good partnership and a healthy marriage will be the best gift that you can give to your child or children," says Iya.
It's this belief that Drew and Iya consciously put an effort into giving importance to themselves. "It was the initiative of my wife," Drew reveals. "Because we are the foundation of the household. So if you don't have a steady, strong, and firm foundation, the household is just going to crumble, right?"
Their ability to keep open communication is one of their core strengths as a couple. "Drew and I are really sensitive to negative energy. And the moment we feel it, we know that we need to address it. Sometimes, it's because we just haven't had a date or haven't reconnected in a while. And for example, I feel na biglang iinit yung ulo ko sa kanya when he hasn't really done anything that would normally make me upset. I'll be like, 'Alam mo, love, I think we need to have our date.' Because sometimes, you go one week without a date, and then it becomes two weeks. And then before you know it, it's been two months without a date. So you just really have to be aware and be willing to address these things and talk to each other."
Taking the time out is as simple as going on a lunch date or watching a movie. "We're very simple like that. We don't really look to do anything else. I mean, we'd be lucky to get a trip in. Recently, we've been blessed to have work that was in another country. And it was just the two of us. So that was a wonderful trip for Drew and I. Because it was work and time together. But yeah, you really just have to make time. Schedule it as if you're scheduling work. Schedule it as if you're getting paid to do it. Because I think the returns will be more than what you think."
Though their relationship isn't perfect, just like every other couple, every day they try to model the best example of love for their children to see and feel. "More than what you say, it's really what you see. And it's really the environment that you set up for them," shares Iya. "So I'll be confident if I'm confident in the love that I am receiving and giving in my marriage. I just hope that what they see in Drew and me is also what they will want for themselves. Hopefully healthy and hopefully happy."
Words GRETCHEN GATAN FRAGADA
Photography EXCEL PANLAQUE
Art Direction MARC YELLOW
Makeup CATS DEL ROSARIO
Hairstyling KIEL OTILLA
Styling ROSHNI MIRPURI and SIYA DARYANI for THE CLOSET CULTURE
Shoot Coordination MJ ALMERO and ANTHONY MENDOZA
Shot on location at ASCOTT BGC
Read more about Drew Arellano and Iya Villania-Arellano:
Iya Villania and Drew Arellano Welcome Baby No. 4
Drew Arellano and Paolo Valenciano Share Important Tips on Being Fathers
WATCH: Iya Villania and Drew Arellano Give A Peek Into Son Astro's Birth